Table of Contents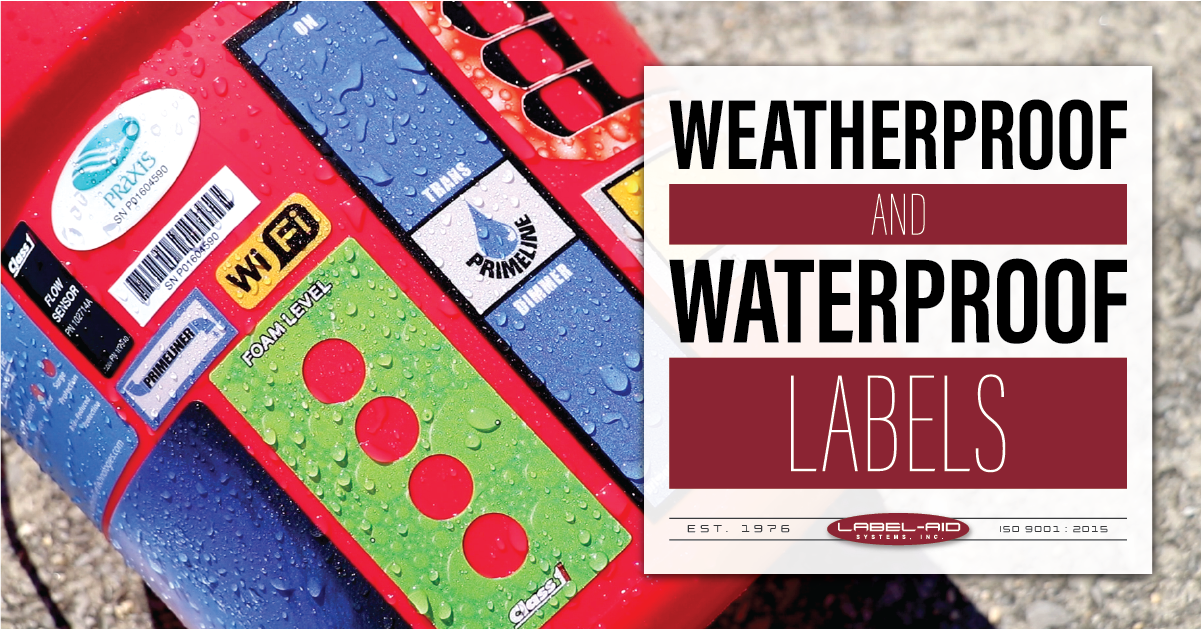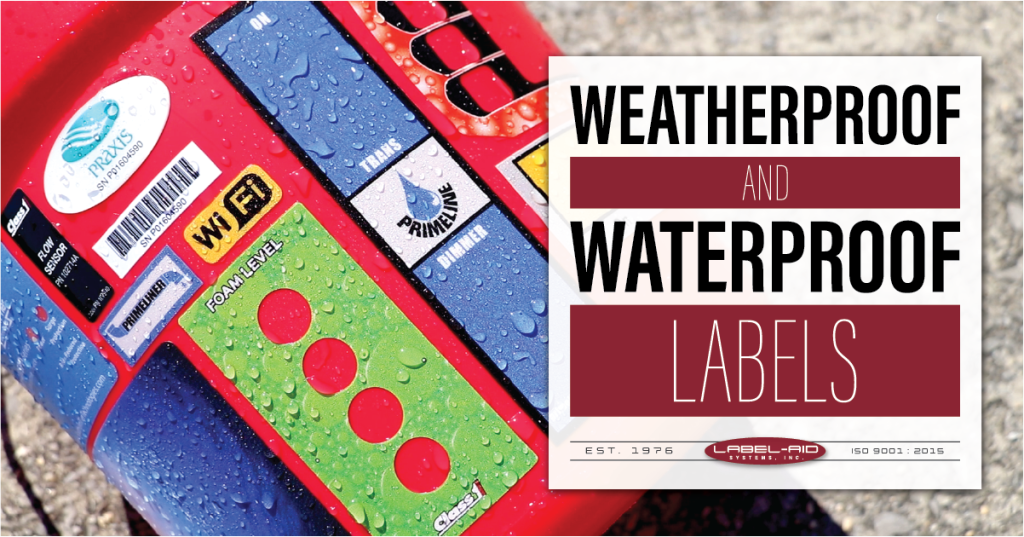 Creating Waterproof & Weatherproof Labels
Our customers use the descriptions weatherproof and waterproof interchangeably, when referring to labels. Generally weatherproof labels, refers to labels used outdoors, while waterproof labels can refer to both indoor and outdoor applications. Terminology aside, what really matters to us is understanding your unique requirements for a custom weatherproof & waterproof label.
This is a very common request for us, and we excel at these types of applications! Let us help you!
Custom Labels For Outdoor & Indoor Use
It is vital to know the environment the label will be placed in, and the product the label will be adhered to, in order to have success. Here are some things to consider that would need to be answered for us to do a spectacular job with the application:
Consider the Environment:
Is it just humid?
Is wet some of the time, most of the time, or all of the time?
Will the label be submerged, and in what liquid? Some of the time? All of the time?
Indoors or outdoors?
How often will it be exposed to sunlight?
What temperatures will there be, and what are their duration?
Will there be exposure to solvents and other chemicals, and how often?
Specifically, what are the environmental conditions in detail?
Consider the Product:
Exactly what will the label be applied to?
The specific metal or plastic?
If plastic, has it been known to out gas, therefore wrinkling the label? (There are materials that prevent this)
Is it a flat surface? Concave? Convex? What is the radius if not flat?
How long do you wish for the label, which is adhered to your product to last? Product life?
Is scuffing possible?
Does it need to be squeezable?
Do you desire a particular look from the laminate or coating…gloss, matte, velvet, etc.…?
From an analysis of the environmental and product information we can then determine the proper material, laminate, ink, and adhesive for your weatherproof and waterproof label.
Choosing Materials for Waterproof & Weatherproof Labels
Depending on the business or application, you might need a label that can endure rain, snow or moisture. Ensuring you use the right materials is imparative to keep the best interest of you and your consumers. These are items we consider when creating waterproof & weatherproof labels:
Materials (Substrates & Laminates)
A synthetic material (film) is used for waterproof labels. Vinyl, BOPP, polycarbonate and polyester are obvious choices depending upon the application conditions, and desired product life. Laminate, sometimes called over laminate, is used to protect the ink. This laminate is also synthetic, and not paper, to provide a totally waterproof construction.
Inks
The type of inks which are used can be drastically different depending on the answers to the environmental and product questions. The biggest determining factor of ink choice is based on whether the label is used outdoors or indoors, and the amount of weather and sun exposure with an outdoor weatherproof label.
Adhesives
We match the adhesive needed to the varied conditions that exist for each given application. A water bottle label application will require a different type of adhesive than a completely submerged instrument attached to an oil well in the sea. They will use totally different inks, film substrate, and adhesives. The information you provide will help us provide a custom-tailored solution for you. Again, we are experts for these applications and have confidence in the solutions we can provide.
Waterproof & Weatherproof Label Applications:
Tractors and other farm equipment
Mowers and lawn equipment
Firetrucks
Fences
Oil rigs
Security systems
Navigation equipment
Weather station equipment
Motor homes, buses, & automobile labels
ATV's
Cranes and other construction equipment
Playground equipment
Submersible measuring devices
Pool heaters and pool equipment
Boats and marine vehicles
Air and heating equipment
Drum labels
Wine, beer & spirits
Food labels
Various product labels
Printing Custom Waterproof Labels
Label-Aid Systems, Inc. is a premier manufacturer of durable custom waterproof labels and stickers of all colors, shapes, and sizes. Our waterproof labels are designed and crafted from polyester (Mylar) or vinyl, making them virtually indestructible all-weather stickers. Mylar offers high tensile strength and can withstand extreme temperatures at either end of the spectrum while our polyester and vinyl stickers are laminated to protect your message and graphics for years.
Printing Custom Weatherproof Labels
Durable, fade-resistant UV ink keeps the custom weatherproof decals readable for years and outlast paper labels. Our top-of-the-line custom weatherproof products are available as cut single stickers, and the crack-and-peel liner allows for quick and easy application. Speak to one of our experts if you're interested in ordering pre-printed weatherproof labels with your own design to your individual specifications.
Do you have more questions or want to learn more about custom waterproof & weatherproof labels? Contact Label Aid Systems if you need help designing or printing custom product labels today!