Polyester vs Polycarbonate Overlays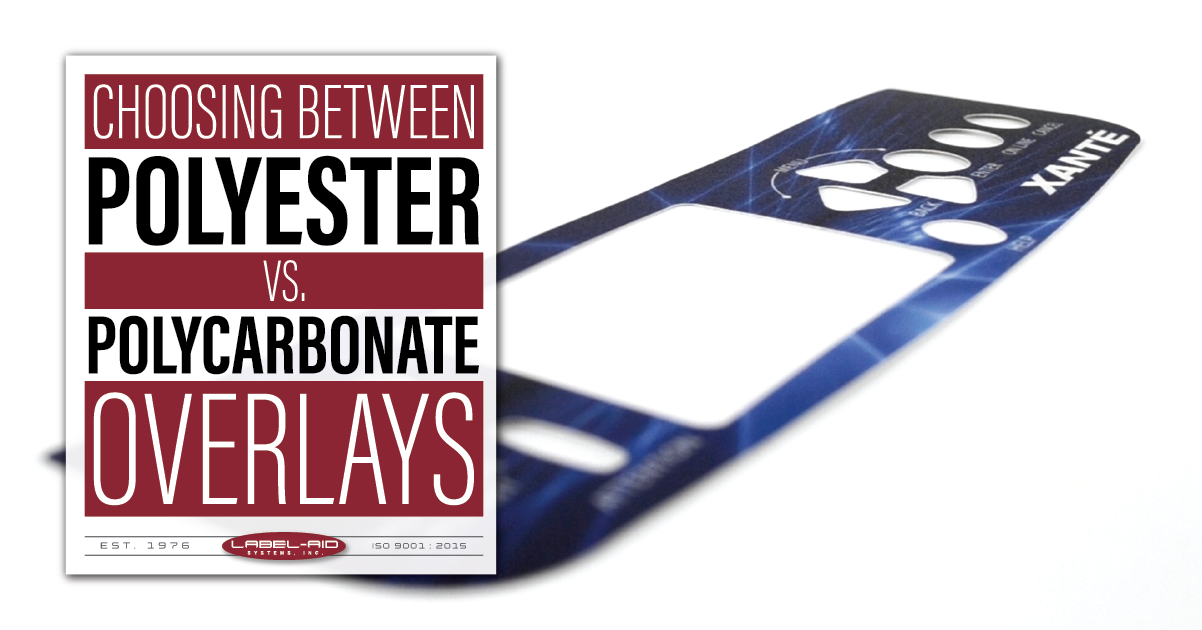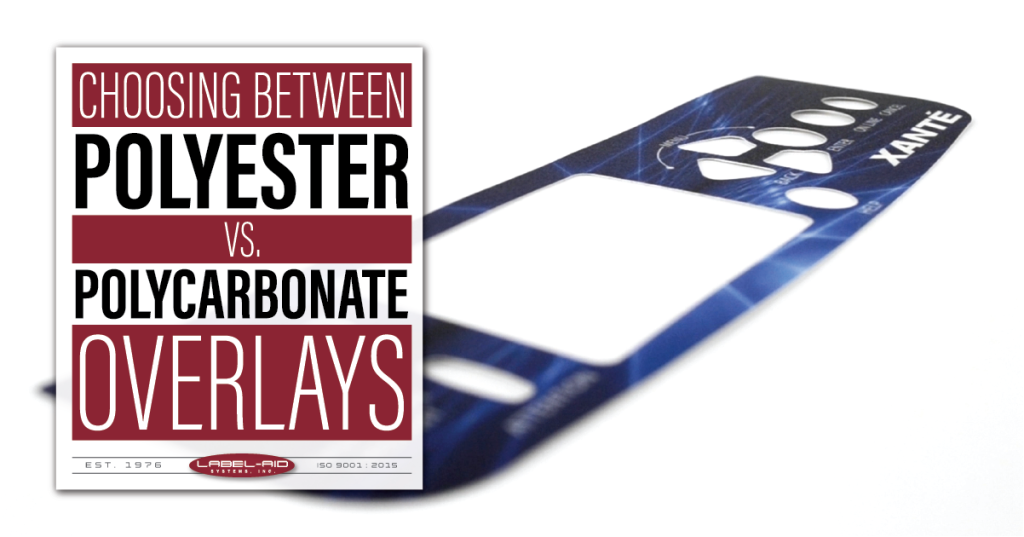 Many customers come to Label-Aid wondering whether to choose a polyester (PET) or a polycarbonate (PC) overlay. Material choice is important to make sure that your ATM keypads, fitness equipment displays, or industrial panel overlay avoids getting cracked and faded over time.
Generally, polyester is considered the more durable material option. You might choose a polyester label if your applications involves chemicals such as acids, solvents, or cleaners because polyester has better chemical resistance. Polyester has a higher actuation life as well, which means that it can be pushed many times over many years without cracking or deforming. We typically see polyester overlays in industries such as medical, industrial plant environments, and appliances.
Benefits of Polyester Graphic Overlays
Polyester is the most common material used for graphic overlays due to its' durableness in terms of ruggedness and fatigue resistance. Polyester is resistant to many external factors like abrasion, chemicals, temperature, and more! These properties make Polyester a great material to be used in harsh environments.
Some applications where polyester graphic overlays shine:
Safety
Medical
Industrial
Outdoor Equipment
Harsh Plant Environments
Polycarbonate (PC) overlays are frequently used for graphic overlays when transparency, impact resistance and heat tolerance is needed. PC offers many visual and production advantages since the material is easier to print on. Polycarbonate comes in a broad range of thicknesses, finishes, and textures. It is a good option where the color and design is important.
Benefits of Polycarbonate Graphic Overlays
Additionally, polycarbonate overlays are flame retardant, so they can be used in industries where fire safety is needed. When it it comes down to impact resistance and temperature tolerances, polycarbonate is the way to go. Other benefits of polycarbonate for graphic overlays include:
Impact Resistance
Flame Resistnace
Choice of Texure & Finishes
Ease of Printing & Production
Aerospace
Automotive
Outdoor Equipment
The chart below shows all of the differences between polycarbonate and polyester overlays. Questions? Contact Label-Aid today!
Polyester vs. Polycarbonate for Graphic Overlays
| | POLYESTER | POLYCARBONATE |
| --- | --- | --- |
| Trade Names | MYLAR, MELINIX, ProTek, AutoFlex, Autotex | LEXAN, MAKROLON, ULTEM, VALOX |
| Flame Retardant | No | Available |
| Outdoor | Yes (but not sea water) | Yes |
| Flex Life (Actuations) | Far Superior | Good |
| Chemical Resistance | Far Superior | Fair |
| Abrasion Resistance | Far Superior | Fair |
| Window Clarity | Good | Excellent |
| Embossing Detail | Good | Very Good |
| High Temp Range | 302 Degrees Farenheit | 275 Degrees Farenheit |
| Textures Available | Few | Many |
| Color Brilliance | Good | Excellent |
| Hard Coating Addition | Yes | Yes |
| Durability | Excellent | Great |