Flexo Vs. Digital Printing: Deciding which technology is right for your labels?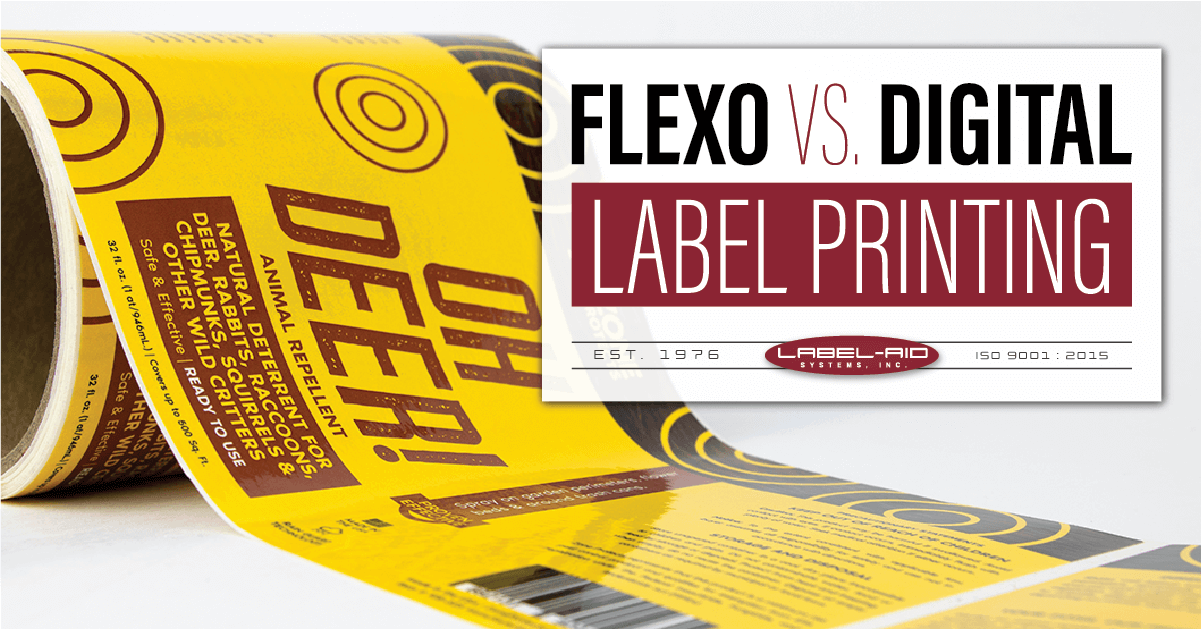 Both flexographic label printing and digital printing are able to produce quality products, but deciding which technology will make the most sense will depend on: design complexity, run size, ink usage, cost and time. Flexographic printing takes up more setup time because it requires new plates to be made for each change in graphics, while digital label printing uses an electronic file and does not require plates.
Flexographic label printing vs. digital label printing
Unsure if you need Flexographic or Digital printing? Don't know the differences between flexo and digital? Do you know which technology is the best fit for your brand's labels? Label-Aid is here to unpack the "flexo vs. digital" debate to help you find the best printing solutions for your needs. We break down the pros and cons so you can decide the best solution for your business.
Flexographic label printing (also known as flexo printing) requires film, a plate, various chemicals, a cylinder, and double-sided mounting tape for each color to be printed. Process labels, require at least 4 colors. Scrap is incurred because you must run stock through the press as you register every color to each other. For long runs this will still be the low-cost option.
Flexographic printing is ideal for printing large orders of custom labels at quick speeds by transferring ink onto the film or paper material using printing plates mounted on rotating cylinders. Customization options are available with flexographic printing plates and are able to print on a wide variety of substrate materials.
Advantages of Flexographic Printing:
High press speeds
In-line finishing (screen, varnish, etc.)
Great for exceptionally long runs
Produces high-quality prints
Is able to print on a variety of substrates
The plate-making process allows you to print a large number of images with one template
Relies very little on manual labor
Disadvantages of Flexographic Printing:
Flexographic printing equipment is more complex – can have expensive repairs
Creating new flexographic plates can be expensive
Cannot produce complicated/extensive artwork
Making changes to the printing can be time-consuming and expensive
Longer set-up times
Flexographic Label Printing Process
In the flexographic printing process, the plates contain a raised, inked image, which is then transferred onto the material. Each station of a flexographic printing press produces a single color, with multiple colors registering properly. After colors have been added, you can further customize your label with die cutting, sheeting, embossing, and perforating. This process, also known as flexo label printing, is notable for using soft flexible plates to transfer ink onto a substrate.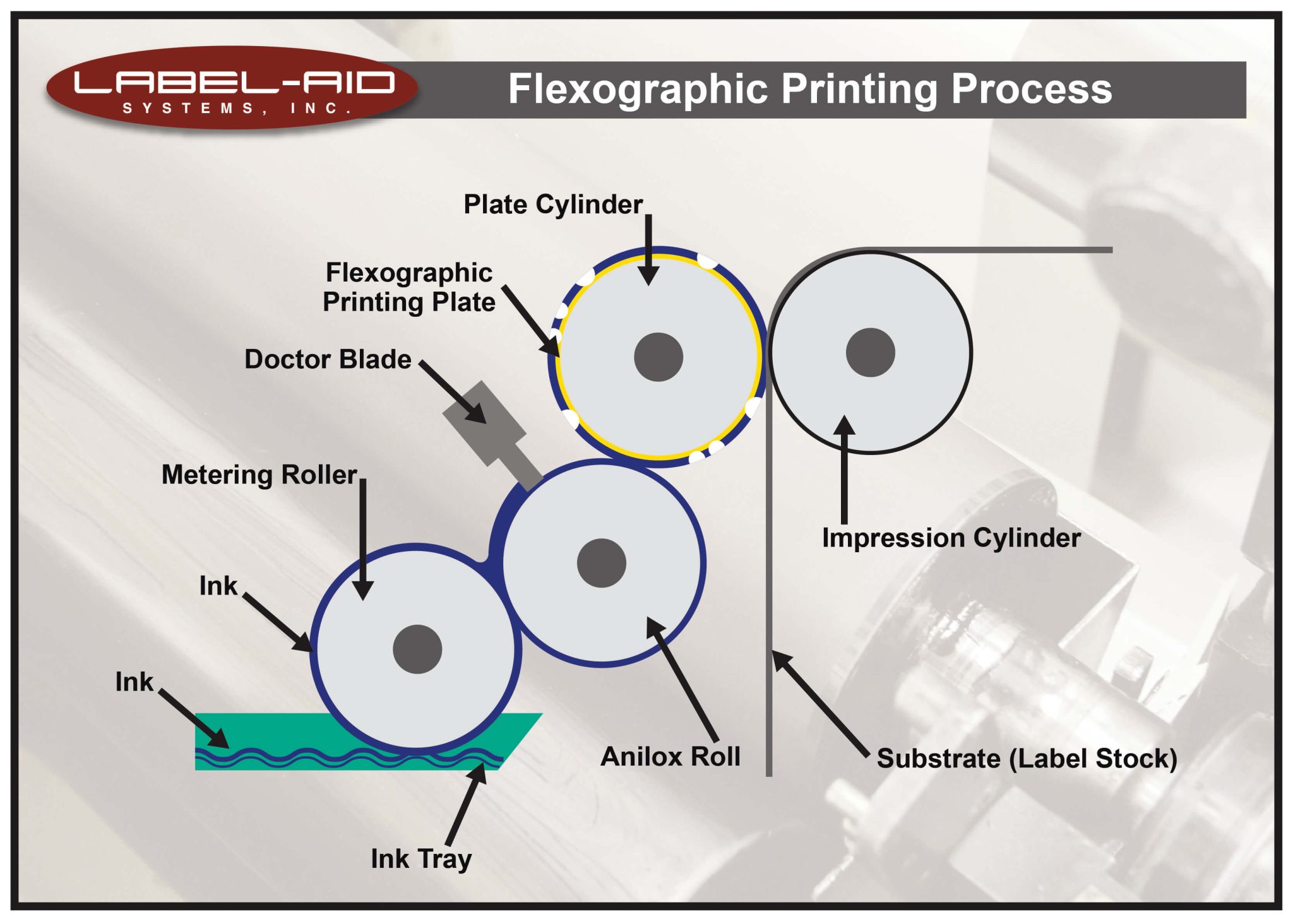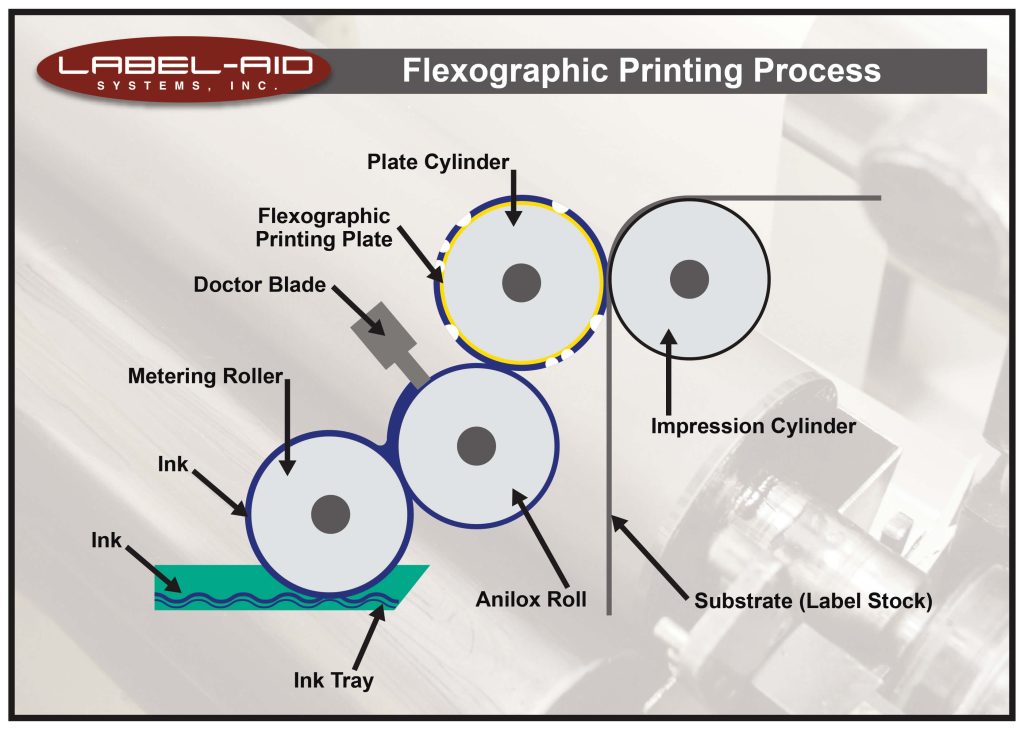 Digital label printing does not use plates. Artwork, via an electronic file, is converted to dots, and four colors (CMYK) are used to create any possible color. While a technical explanation of exactly how this occurs, is not given here, images are transferred onto the substrate (paper or film) directly from the artwork via a blanket, transfer belt, drum, etc. depending on the type of digital press used. The art image is transferred to the substrate as a unit, perfectly registered.
Advantages of Digital Label Printing:
Because the art image is transferred to the substrate as a unit (all colors or dots), registration is perfect from label one until the end of the run. No bleeds or traps are necessary!
Also, because colors do not need to be brought into registration, scrap is extremely low, which lowers cost
Because each label is reimaged before it is transferred to the substrate, total customization for each and every label is possible.
No charges for art, plates, or film.
Very little to no setup (only requires a computer and an inkjet or laser printer).
Total flexibility for graphic designers
Unlimited copy changes as every label can have variation
Unlimited colors
Easily print complex graphics
Stunning appearance
Serialization or variation of each label including numbers, bar codes, QR codes, images, text
High resolution images, suburb unparalleled quality
Fine gradients and vignettes, without dot drop off experienced with other printing process (no harsh lines)
Consistency of color throughout the run and from run to run
Lower minimum quantities, at lower costs
Future revisions of current labels without incurring additional costs
Inks that are very durable, with unbelievable adhesion to the substrate, and in many situations without the need for costly overlaminates
Faster from initial order to print, since there are fewer steps
Can print much smaller images and fonts with clarity
Disadvantages of Digital Label Printing:
The press is slower, therefore extremely long runs would be more costly (although speed is improving every year).
Shower production speeds
High equipment maintenance cost
Substrate limitations due to ink compatibility
Flexographic printing and digital printing things to consider:
Design Complexity:
Product labels are perfect for digital printing since the graphics are so spectacular. Near perfect printing creates a very attractive package. We see many industrial applications and even some prime labels where serialization is needed. There is no better way combine multiple SKUs into one order than with digital printing.
Run Size:
Flexographic label printing presents the best value for large runs with little variation. This method is well suited to handle large-scale label printing projects.
Ink Usage:
Flexographic label printing offers a large range of ink solutions that can be tailored to the substrate you require and because ink trays are easily filled, expensive cartridges are not required.
Cost:
Digital printing is where we see the greatest cost savings for our customers, in situations where there are short or medium runs with lots of copy changes. These types of applications produce the highest cost savings. Any short run will produce cost savings as well, with or without copy changes.
Turn Around Time:
Digital printing often has a faster turnaround time than flexographic labels in small scale projects. Flexographic labels require more time because a printing plate has to be created, then the ink tank has to be filled, and the ink roll and plate cylinder have to be assembled. However, you should still consider the size of the project. Flexographic label printing is ideal when you're printing a large amount of labels.
Choose the right label printing partner for your company:
Label-Aid Systems custom labels are ideal for designating ownership, conveying branding, informing/alerting users and improving product shelf appeal. We entered the digital label and graphic overlay printing arena almost 20 years ago. During that time, we have increased our knowledge and feel like we can help with any possible application.
We offer a variety of material choices for your high performance custom labels and custom printed tags, including paper, polypropylene, vinyl, polycarbonate, polyester and foil. We can manufacture high performance custom labels that are matte, high gloss or semi-gloss, depending on your needs.
We have a team of experts waiting to help you, contact us today!