Table of Contents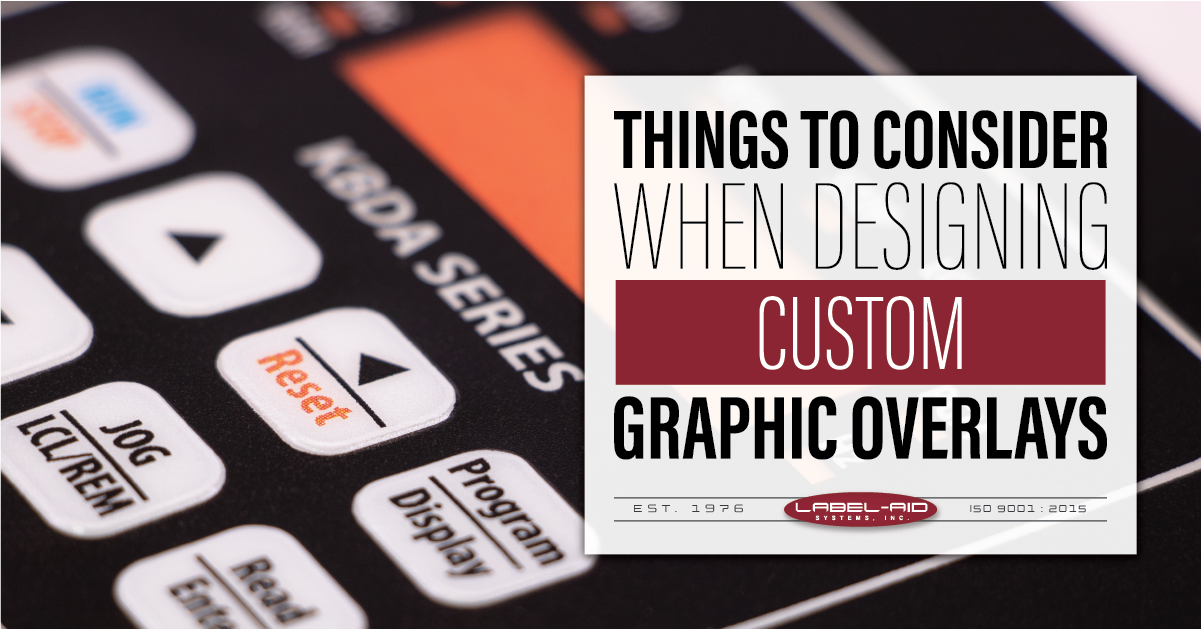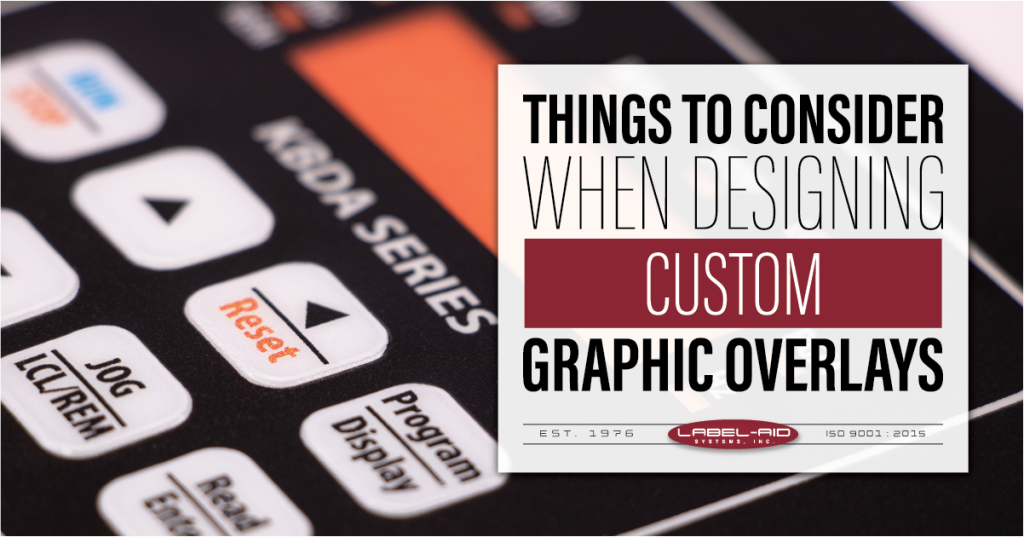 Custom graphic overlays add a layer of protection, provide visual cues, increase brand awareness and make for a good user interface. Many names are used to describe a graphic overlay including nameplate, faceplate, control panel, polycarbonate label and interface panel. Label-Aid Systems has been designing and manufacturing graphic overlays for over 35 years.
What Are Graphic Overlays?
A graphic overlay is a printed piece usually on polycarbonate or polyester that is somewhat rigid, and adhered to equipment and many other products to identify, label particular functions or provide other essential information. A graphic overlay may be functional in that it may have raised buttons that are pressed to operate switches below on the product as well as windows that allow electronic information (LED), to be displayed.
Graphic overlays are used on medical devices, manufacturing equipment, electronic interfaces, various kinds of machinery, Telcom equipment, computers, industrial control panels, robotic controls, KVM devices (keyboard, video, mouse), appliances, membrane switches, modems, and automotive controls to name a few.
The material used for a graphic overlay is usually between 5 and 20 mils thick, with polycarbonate being the most popular material, and polyester coming in second. Materials greater than 20 mils are much more difficult to cut, although it can be done, with added cost.
A graphic overlay provides the ultimate durability, and many years of product life because second surface printing is utilized on most graphic overlays. Clear material is used, and the ink is printed on the backside of the clear material so that the graphics are seen looking through the front side or top of the material (reverse printing). Since there is no ink on the surface, the entire thickness of the material protects the graphics. The ink is encapsulated between the material and the adhesive for the ultimate durability and long life.
Designing Custom Graphic Overlays
As we look at the components that make up a graphic overlay, the information below can be helpful when selecting a particular construction.
A graphic overlay consists of:
Base material
Ink
Adhesive
Base Material Decisions (substrate)
More than 80% of the applications we manufacture for our customers use 10 mil polycarbonates. The other applications would be thicker or thinner polycarbonates and polyesters in various thicknesses. The fact that most customers choose polycarbonate speaks to its ability to handle a wide range of applications, and operate effectively as the go to material.
Polyester
Reasons to choose Polyester:
The flex life when activating a switch is much greater with 1,000,000 to 10,000,000 actuations possible for the life of the product without cracking
Much greater chemical, solvent, and acid resistance. Best choice in a harsh environment where many cleanings take place repeatedly or exposure to chemicals
Better scratch and abrasion resistance
Generally, the toughest and most durable material and available with an additional hard coating for even more durability and scratch resistance. It is simply more resilient
The choice for outdoor applications (except salt water exposure)
Things to Keep in Mind:
Limited thicknesses to .005", .007", .010" for indoor applications and .006", and .008" for outdoor applications
Not flame retardant
Limited textures available
Clarity is not as good as polycarbonate, but is still very good. Clarity refers to how the subsurface inks appear viewing the overlay from the front through the material
More costly than polycarbonate
Polycarbonate
Reasons to Use Polycarbonate:
It is economical
Many textures are available, including those that enhance and provide better abrasion resistance
Polycarbonate covers a broad range of applications and is specified most often by end users, and their engineering departments
Its clarity is excellent, even in greater thicknesses…superb clarity
Provides better embossing details
Can be flame retardant
Can add a hard coating to further enhance durability
Things to Keep in Mind:
Flex Life is limited to 150,000 to 200,000 actuations for the life of the product
Not nearly as resistant to chemicals, solvents & acid
Other Material Considerations:
Texture
Most of our customer choose a velvet texture on the front of the material, to be exposed to whatever elements may exist. Velvet which is coarser than other finishes, hides finger prints and scratches better than alternate gloss finishes. Other finishes available are gloss, and matte. A gloss finish appears like glass and looks great when new but will scratch much more easily. We only recommend a gloss finish if the graphic overlay is informational only, not functional, and will not be cleaned or used often.
Polyester vs. Polycarbonate
Wondering whether to choose a polyester or a polycarbonate overlay? Generally, polyester overlays are considered the more durable material option and are typically used in industries such as medical, industrial plant environments, and appliances. Polycarbonate, however, has more cosmetic options. While polyester is a thick and durable material, polyester is available in a greater range of thicknesses, finishes, and textures. It is a good option where the color and design is important. Additionally, polycarbonate overlays are flame retardant, so they can be used in industries where fire safety is needed, such as aerospace.
Ink Decisions
Screen Inks
Screen inks are used for many outdoor applications. They offer much more fade resistance, due to greater ink film thickness.
Screen inks are used when a graphic overlay may need to hide what it is covering, for instance holes, or other printing, where much more opacity is needed.
Digital Inks
No art charges
Unlimited copy changes become affordable because digital doesn't use plates or screens when printing…going directly from art file to print
Unlimited colors, complex graphics, total design flexibility
Perfect color registration without the worry of traps or bleeds
Serialization, sequential numbering, sequential barcodes & QR codes
High resolution, fine details, fine gradients, fine vignettes, full color process
Other Ink Considerations:
Are we setting the standard for color, or are we matching a previous graphic overlay?
Is there a part to match color to? What is the basis for the color match?
Adhesive Decisions
Things we need to know to make sure we are using the correct adhesive for your application:
What is the surface texture the graphic overlay is to be applied to?
Is the surface flat or curved?
Will any contamination be present on the surface that the graphic overlay will be applied to? (Oil, grease, release chemicals, particles, fibers, dust, etc.…)
Any plasticizers on the surface?
Application temperature?
Is the surface energy of where the graphic overlay is applied high or low (see below)?
Adhesives will be more attracted to high surface energy, than to low surface energy. We use adhesives that can stick to both well, but adhesives for low surface energy are more expensive, so this must be known.
Higher Surface Energy (Better Adhesion)
Metals
Kapton
Polyurethane paint
ABS
Polycarbonate
PVC
Polane paint
Epoxy paint
Noryl resin
Phenolic
Acrylic
Polyester
Nylon
Lower Surface Energy (Possibly Poorer Adhesion)
Powder coated paints
Teflon
PVF
EVA
Polystyrene
Polyvinyl Acetate
Acetal
Polypropylene
Polyethylene
Metal mesh
Wood
Rubber
Foam
Windows
Most customers want die cut adhesive so the windows do not have adhesive over them that further diffuses the LED.
We do not recommend gloss windows because they scratch, but recommend instead a wet-out window over velvet textured stock, if you are looking for a gloss finish for windows without a texture
Embossing
Embossing raises an area on the graphic overlay to fit over switches or buttons that perform a function.
Holes and Cut Outs
Small cutouts are a problem with steel rule dies. The individual pieces of rule quickly fill up, with each cut, then "blow out" or spread producing a poorly cut part.
We like to see a minimum diameter of .0625" for materials that are 10 mils and thinner, and .125" for 15 and 20 mil materials for circular cutouts or punches with at least .25" clearance on at least one side.
Other Features of Graphic Overlays that We Can Consult You About
Embossing, including embossed buttons
Dead front graphics.
Selective texturing on the front of an overlay to give the effect of both gloss and matte, or velvet, or satin
Spacers that allow more room for switches, and buttons
Other Considerations:
Will the graphic overlay be placed into a recessed area?
Adequate pressure must be applied to the graphic overlay as it is adhered, and the ultimate bond strength will only be reached after 72 hours.
How scratch resistant must it be? Is it an extreme situation?
How chemical resistant must it be? is it an extreme situation?
Would you like a kiss cut tab? (Helps pull of the liner off the adhesive) also a part number can be added on the tab