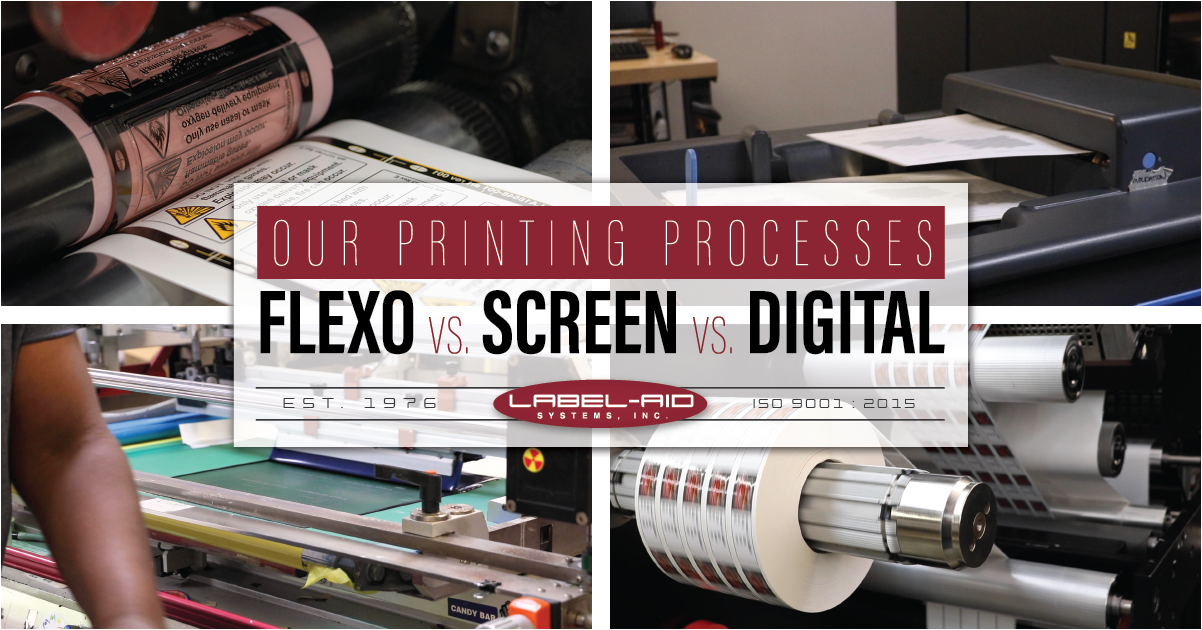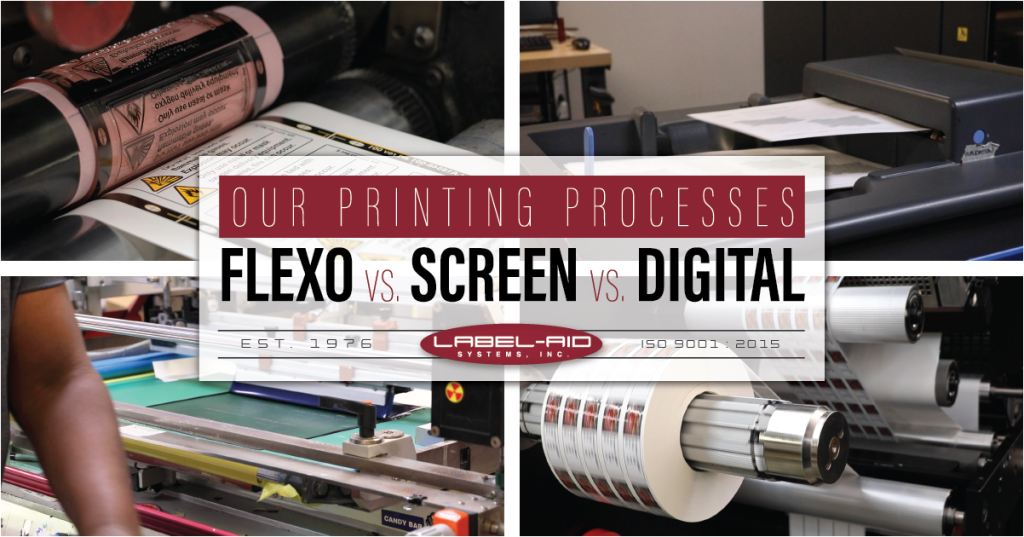 Table of Contents
Flexographic Label Printing
Screen Printed Graphic Overlays, Labels & Decals
Digitally Printed Graphic Overlays, Labels, and Decals in Sheets and Rolls
Our Printing Processes: Flexographic, Screen, & Digital Printing
The printing industry is constantly growing and developing, here we'll cover the different technology and printing methods available at Label-Aid. Label-Aid Systems, is an ISO 9001:2015 manufacturer of high-quality labels, tags, graphic overlays and decals. We manufacture everything in-house. We are not a broker or reseller.
Below we delve into our printing process capabilities. When you offer us an opportunity to serve you, we consult with you about which process yields the best cost/benefit for you. We are experts at guiding you to a solution that meets all your needs!
What is Flexographic Printing?
In the flexographic printing process, the plates contain a raised, inked image, which is then transferred onto the material. Each station of a flexographic printing press produces a single color, with multiple colors registering properly. After colors have been added, you can further customize your label with die cutting, sheeting, embossing, and perforating.
Flexography also known as "flexo" is a process that involves these elements:
A flexible, soft photopolymer plate is laser etched in such a way that the ink carrying image to be printed is raised above the floor of the plate. Some call this relief printing.
The photopolymer plate is then easily adhered around a cylinder. Once the plate is in the press, ink is applied to the raised surface only of the plate which rolls onto the substrate to produce the desired image. A plate for each different color is required and each plate cylinder must be held in register with one another, as multiple colors are applied. This is a rotary process.
Labels are cut, as they are rolled onto a core, by a rotary die, or cutting tool, which allows the label to stay on the silicone liner, while the waste matrix is pulled away. Of course, labels and tags can be sheeted and stacked, rather than rolled.
6 Advantages of Flexographic Printing
Performance

Fast run speeds for long and medium run jobs, which overcomes any disadvantages.

Low Production Costs

Flexo printing typically has lower production costs than other printing methods due to the lower cost of materials like ink.

Variety of Subtrates

There is a huge variety of substrates available, both papers and films, including metallized substrates.

Variety of Inks

Flexography allows for a wide variety of ink types for the printing process. Inks and coatings are available in both water-based air-dried inks, UV curable inks, that are environmentally friendly and metallic inks.

High Quality Image Reproduction

The ink systems are Pantone Matching Systems, for easy identification of the desired color, as well as color consistency. Special match colors are easily attainable.

Protection

Laminate can be applied for protection, in-line, at high speeds.
Disadvantages of Flexographic Printing
Plate costs
Set up time
Not the best option for small runs with many different copy changes (But see Digital Printing Advantages)
Flexographic Printing Applications:
What is screen printing?
Screen printing (also called silk screen printing), is one of the oldest printing processes. It was originally called silk screen printing because silk was used as the mesh to print through. Silk screen labels are ideal for images requiring thick, opaque ink. They are also weather and abrasion resistant, so they are ideal for outdoor or harsh environment applications.
Screen Printing Process
The process begins with a mesh screen which is tensioned on a square roller frame. This mesh is porous.
The mesh or screen is coated with an emulsion gel, and the emulsion hardens when exposed to an intense light.
Before exposure to the light source, a film of the image to be printed is placed over the screen. The image will be dark, in order to block the light. All parts of the emulsion harden except for the image which was blocked from the light. The image portion blocked from the light remains a gel, and the emulsion gel is then washed out, to expose the mesh underneath it. This is referred to as a stencil.
Thick ink is pressed through the fine mesh screen only, with a squeegee, where the emulsion was washed out to create the desired image. For each different color, a screen with the various images must be prepared, and properly registered with the color or colors that have been printed previously.
The graphic overlay, decal, or label is processed through a UV dryer one color at a time until the image and all its colors have been completed.
Once printing is completed, further processing takes place including:
Laminating
Adhesive application
Die cutting
Advantages of Screen Printing
Thick ink film thickness creates the ultimate for outdoor exposure to the elements. This is the best fade resistant process.
Durable
Metallic inks can be used
Wide variety of substrates are available
Disadvantages of Screen Printing
Slow process
Set up time for each screen (color)
The more colors that are required, the higher the cost, because of the requirement of a screen for each color
Screen Printing Applications:
Graphic Overlays Indoor & Outdoor
Outdoor Vinyl Labels
Control Panel Overlays
Polycarbonate Graphic Overlays
Polyester Graphic Overlays
Vinyl Graphic Overlays
Die Cut Graphic Overlays
Digital Graphic Overlays
Electronic Graphic Overlays
Fitness Graphic Overlays
Medical Graphic Overlays
OEM Graphic Overlays
Sequentially Numbered Graphic Overlays
Weatherproof and waterproof graphic overlays and labels
What is digital printing?
Digital label printing is a process that does not use plates. Artwork, via an electronic file, is converted to dots, and four colors (CMYK) are used to create any possible color. Images are transferred onto the substrate (paper or film) directly from the artwork via a blanket, transfer belt, drum, etc…depending on the type of digital press used. The art image is transferred to the substrate as a unit, perfectly registered. Many call this process art to print, and that aptly describes digital printing.
Advantages of Digital Printing
Because the art image is transferred to the substrate as a unit (all colors or dots), registration is perfect from label one until the end of the run. No bleeds or traps are necessary!
Also, because colors do not need to be brought into registration, scrap is extremely low, which lowers cost
Because each label is reimaged before it is transferred to the substrate, total customization for each and every label is possible.
No charges for art, plates, or film.
Very little to no setup
Total flexibility for graphic designers
Unlimited copy changes as every label can have variation
Unlimited colors
Easily print complex graphics
Stunning appearance
Serialization or variation of each label including numbers, bar codes, QR codes, images, text
High resolution images, suburb unparalleled quality
Fine gradients and vignettes, without dot drop off experienced with other printing process (no harsh lines)
Consistency of color throughout the run and from run to run
Lower minimum quantities, at lower costs
Future revisions of current labels without incurring additional costs
Inks that are very durable, with unbelievable adhesion to the substrate, and in many situations without the need for costly overlaminates
Faster from initial order to print, since there are fewer steps
Can print much smaller images and fonts with clarity
Disadvantages of Digital Printing
The press is slower, therefore extremely long runs would be more costly. (Speed is improving every year!)
Unable to reproduce metallic inks well
Digital Printing Common Applications
Where we see the greatest cost savings for our customers, is in situations where there are short or medium runs of labels or graphic overlays with lots of copy changes. These types of applications produce the highest cost savings.
Any short run will produce cost savings as well, with or without copy changes.
Product labels are perfect for digital printing since the graphics are so spectacular. Near perfect printing creates a very attractive package.
We see many industrial applications and even some prime labels where serialization is needed. There is no better way to serialize than with digital printing.
Labels and graphic overlays where very small font sizes are needed are a great application.
Label-Aid can produce any of the above listed applications with digital printing
Flexo, Digital & Screen Printing Services
Label-Aid Systems, is an ISO 9001:2015 manufacturer of high-quality labels, tags, graphic overlays and decals. We manufacture everything in-house. We process all the capabilities to do a great job for you. Our experts will spend time with you asking the right questions, to align you with the right process, that saves you money, and is the perfect fit fr your specific situation. Contact us today!