What is Variable Data Printing?
Variable Data Printing (VDP), or Variable Image Printing (VIP), is where the information on a print changes from page to page. Variable data printing allows for highly customized and personalized labels and in our case, each label can have its own unique set of copy, data, colors, and/or graphics. This is technically also possible with the more traditional screen and flexographic label printing methods, but those methods would require a unique screen and plate for each sheet of labels or individually unique label.
On the other hand with digital printing, a digital file of the artwork is sent straight from the computer to the press, where it can be directly printed on the material. This screen-less/plate-less printing does not have the extra Pre-Press time needed to make the screens or plates for printing, saving us time and you money. And if the information on each label is unique, depending on how many labels you need, there might have been dozens to thousands of screens or plates needed to complete the job. That's a lot of savings!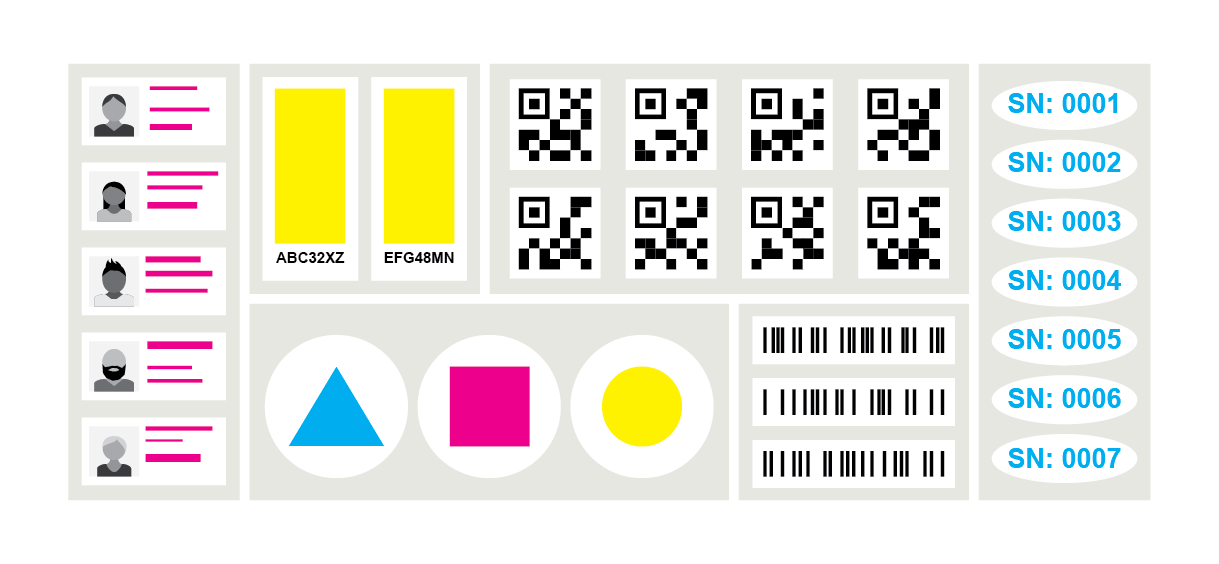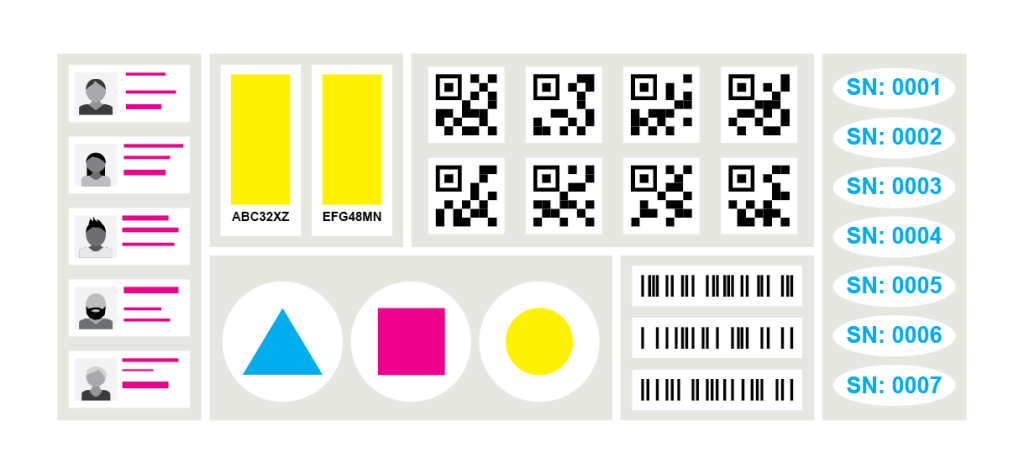 Benefits of Variable Printing for Labels
Thanks to the capabilities of digital printing, achieving labels, tags, and overlays with Variable Data Printing is easier and more affordable than ever. One of the main benefits of variable data printing is that all variable data is stored digitally, meaning it doesn't slow down the printing process like other types of printing since there is no need to stop the presses to change out plates to create variations. Other benefits include:
Cost savings
Unlimited colors
Personalization
Ability to print complex graphics cleanly
No set up fees
Perfect registration with no need for color traps
Ability to print small fonts with no fill in
Incomparable vignettes and gradual fading of graphics
Variable Data Labels & Stickers
Variable data label and stickers are a great solution for producing serialized barcodes, number labels, and more. So, what kind of variable information might be on a label? Well, you tell us. As long as the labels are the same shape and size, we can do just about any variable printing you could need, but here are some examples:
Consecutive or random numbers
Consecutive or random UPC or other barcodes
Consecutive or random QR codes
Various languages
Asset labels
Inventory management
Lot, batch, and date information
Product tracking numbers to be used throughout your supply chain
Unique designs for each label, including color, graphics, and images
URL information
Any unique data desired
Reach out to one of our experts to discuss the scope of your variable label printing project to get started today!